Projects - Commercial - HISTORIC CAYUGA COUNTY POST OFFICE
HISTORIC CAYUGA COUNTY POST OFFICE
The Historic Cayuga County Post Office, located in Auburn, New York, is a majestic building listed on the National Register of Historic Places. The Richardsonian Romanesque structure built from 1888 to 1890 and expanded in subsequent decades, showed signs of age and disrepair when the County hired a design firm. There were three separate projects to rehabilitate the Old Post Office.
For the first project, staff from AJH Design provided design and construction administration services to restore the failing exterior masonry on the building. Work performed for the restoration of the historic Cayuga Post Office included the renovation of the existing building fašade, which is comprised of limestone and brick masonry. The work consisted of the following:
Repointing for the face brick.
Repair of cracked brick masonry.
Replacement of weathered brick masonry.
Patching of limestone work.
100% cleaning of limestone and brick masonry walls.
AJH assisted in the selection of contractors and monitored the construction process. The work was completed in October 2011.
The second portion of the project included the design of a new roof system for the building additions, and detailed requirements were developed for the restoration of the existing slate roof on the original 19th century structure. AJH staff developed specifications and details for the flashing, roof membrane and copper restoration. Bid documents were prepared for a Spring 2013 start.
Finally, AJH Design was tasked with designing replacement windows for the wide variety of unique window styles within the building. Coordination with the State Historic Preservation Office of New York State was required to ensure compliance with the historical requirements. With the level of deterioration plaguing the original windows, new windows were the logical solution. A design was developed to preserve the historical look and provide better energy efficiency was developed by AJH Design. This portion of the project is pending final review with all agencies.
Featured Projects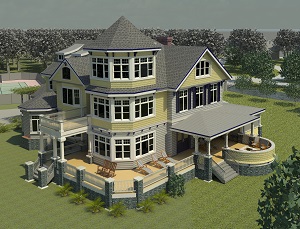 Contact Us
111 East 14th Street
Elmira Heights, New York 14903
607.737.4638
607.767.6115 (fax)
Email: info@ajh-design.com